BUYING GUIDE
BLADE STYLE
Depending on the type of work you do, you may need a blade with more slicing, push cuts, draw or pull cuts. See Blade Styles for more info.
OPENING SYSTEM
Some people prefer a manual opening folder, some prefer a bit of assisted opening, and some like it fully automatic at the push of a button. With any of these opening systems, most Kershaw folders can be opened with one hand. See Opening Systems for more info.
OPENS WITH
If you prefer to open your knife a with your index finger, choose a knife with a flipper, located at the back of the blade. If you like to open a folder with your thumb, choose a model with a thumb stud or thumb disk. A push button model (usually an automatic) opens best with the thumb (or index finger for left-handed users). Some manual models open two-handed with a nail nick. See Opening Systems for more info.
LOCK TYPE
The design of each Kershaw folder incorporates a lock that is either built into the handle scale, adjacent to it, part of the opening push button, or a traditional detent. Which Lock Type you prefer may influence which Kershaw folder you choose. See Lock Types for more info.
BLADE STEEL
If your daily work includes sustained knife use, you may want a high-end steel blade. Kershaw blades are made from a range of steels, each with their own strengths in edge retention, corrosion resistance, and sharpening ease. Choose a blade steel that matches your frequency of use, what materials you are cutting, and your sharpening system. See Blade Steels for more info.
BLADE EDGE
While most Kershaw blades feature a sharp plain edge, a few incorporate partial serration. This can be helpful for cutting rope and similar tasks. See Blade Edges & Grinds for more info.
HANDLE MATERIAL
A handle material like G10, rubber over-mold or glass-filled nylon can add texture and grip to a knife. Consider your working conditions, whether you are outdoors, wearing gloves, or in a wet environment. Or you may simply prefer the feel and aesthetics of an aluminum or steel handle. See Handle Materials for more info.
PRODUCT CARE
Kershaw knives are designed to work hard. Take care of your Kershaw with regular maintenance to make it last.
CLEANING & OILING
Always keep your knife clean. Wipe away debris and, if needed, wash with a mild detergent and dry thoroughly. Do not let your knives sit in water. Due to the high carbon content of the quality steel in our blades, the blade may corrode if not properly cared for. Wiping a light coating of oil on the blade and hinge before storage is also important for keeping your investment in proper working order. Most household oils, WD40, 3-in-1 oil, or gun oil will work just fine for maintaining your Kershaw knife. We recommend using Kershaw Knife Oil.
BLADE AND HANDLE COATINGS
The technologically advanced coatings on the blades and handles of some Kershaw knives are designed to add beauty to the products and to enhance specific performance features. Although Kershaw coatings are designed to stand up to continual knife use, in time, all coatings will show some wear. Scratches and other signs of wear should be expected and considered normal.
CARE FOR KERSHAW SHEARS
Keep shears debris free. If needed, wash with mild detergent. Then wipe dry and add a light coating of oil to the blades and pivot point. The blades of your Taskmaster shears separate to make cleaning especially easy.
ADJUSTING SCREWS
Please use Torx bits (not an Allen wrench, which will strip the screws) to adjust screws on Kershaw knives. Most screws may be adjusted using either a T6 or T8 Torx bit, we recommend using the Kershaw TX-Tool. T6 fits pocketclip, handle, and safety-lock screws on current model knives. T8 fits the pivot screw. Some older models (prior to 2000) may require a T4. If screws on your knife are coming loose or you think the holes could be stripped, use thread locker (such as blue Loctite 243) and let set for 24 hours before using your knife.
SHARPENING
Your knife comes with FREE lifetime sharpening. Just send the knife in to our Tualatin, Oregon facility, we'll sharpen it and return it to you. You can also sharpen your knife with the Kershaw Ultra-Tek Sharpener.
Hold the blade against the Ultra-Tek at the original sharpened angle of 18°–22°.
Beginning at the base of the blade and tip of the sharpener, pull the blade down and toward you across the top of the sharpener in a slight arc as shown in the illustration. Do the same thing across the bottom of the sharpener as shown. This sharpens the top of your blade.
Repeat this "over and under" motion approximately three to five times on each side to fully sharpen your knife.
USAGE & SAFETY
Knives are extremely sharp tools and should only be used or handled with the utmost care and caution. Here are some tips for using your Kershaw safely:
DOS
When opening and closing a knife, be sure to have a firm grip on the handle and keep your fingers clear of the blade's path.
When cutting, make sure to keep the rest of your body clear and maintain a safe distance from other persons.
Always keep your knife clean, maintained, and in working order. Dirt, debris, and worn parts can make a knife function improperly.
Be sure to use your Kershaw knife only for its intended use.
DON'TS
Do not use the blade to pry or twist. To maintain the edge and integrity of the blade, do not use a Kershaw blade to pry or as a screwdriver. Kershaw has other tools, such as some of our multifunction tools, specifically designed for this purpose.
Any use other than cutting (such as prying or twisting) is considered misuse and abuse—and will void your warranty. Kershaw Knives/Kai USA Ltd. is not responsible for any injuries resulting from misuse or abuse of the product.
Do not use any Kershaw knife as a throwing knife (other than the Ion 1747BWX or Aethon 1748X throwing knives) or a stabbing device. Throwing knives and knives developed for stabbing have a distinctly different design and function. Kershaw knives are not intended for throwing or stabbing; they are designed for cutting purposes only.
OPENING SYSTEMS
Kershaw folders offer many options for opening. Here is a guide to the mechanisms and the mechanics on the inside and outside. For closing a Kershaw folder, refer to Lock Types.
OPENING ACTION
The opening action is determined by the internal mechanisms around the folder's pivot. Kershaw pocketknives provide smooth opening action using a variety of opening mechanisms.
ASSISTED OPENING
Kershaw launched a revolution with their assisted opening. When closed, a torsion bar in the handle creates a bias toward the closed position. When opening, the torsion bar adds to the pressure from your finger and pushes the blade open.
AUTOMATIC
A push-button lock holds the blade in place, but under pressure from a torsion spring. When the button is pressed, the pressure is released and the blade opens. The Kershaw Launch series features a selection of these sleek, fast, instant-open knives.
MANUAL WITH KVT BALL BEARINGS 
Relies on a ring of "caged" ball bearings that surround the knife's pivot and enable the blade to move out of the handle smoothly. KVT makes opening manual knives as smooth, easy, and often as fast as assisted opening.
MANUAL WITH WASHERS
No springs or torsion bars, these folders rely on washers for a simple, smooth pivot open.
SLIPJOINT
These folders have a tension rod that presses against the internal back of the blade that biases the blade toward the open and closed positions.
On some slipjoints, this detent presses against the back of the blade. Some press on the side of the blade, often with a small ball and groove to provide the bias to the open and closed positions.
HOW TO OPEN A KERSHAW FOLDER
There are different ways to open your pocketknife, depending on its external mechanism. Here's how to open Kershaw folders with our most common mechanisms.
FLIPPER
The flipper is a metal extension found at the back of the blade near the pivot. It can be found on both assisted and manual folders.
Opening with a Flipper, Assisted:
Hold the knife handle vertically in one hand.
Place your index finger on the top of the flipper.
Gently apply downward pressure on the flipper.
SpeedSafe opens the knife quickly and easily, and the blade locks into place.
Opening with a Flipper, Manual:
Hold the knife handle in one hand with the butt end resting firmly in the palm of your hand.
Place your index finger on the highest point of the flipper.
Push down strongly and quickly on the flipper.
The blade will move out of the handle and lock into place. If you have trouble moving the blade fully out of the handle, add a slight flip of the wrist.
NAIL NICK
The nail nick is a groove in the top of the blade, usually halfway down the length of the blade. It is found on manual folders.
Opening with a Nail Nick:
Hold the knife handle in one hand.
With your other hand, hold the blade at the nail nick.
Slowly open the knife, following the path of the blade until the blade is fully open.
The blade on most manual folders will lock into position. A slipjoint model will not have a locking mechanism.
PUSH BUTTON
The push button is found in the handle of the folder near the pivot. It is often used in automatic folders.
Opening with a Push-Button Auto:
For right-handed use, hold knife vertically in one hand with your thumb against the blade-release/lock button.
Maintaining a firm grip on the handle, and fingers clear of the blade's path, push the button.
For left-handed use, use your index finger instead of your thumb to press the blade-release/lock button.
THUMB STUD
The thumb stud is a small stud at the top of the blade near the pivot. It may be on one or both sides of the blade.
Opening with a Thumb Stud, Assisted:
Hold the knife handle vertically in one hand.
Place your thumb on the thumb stud.
Gently push outwards on the thumb stud.
The SpeedSafe assisted opening mechanism opens the knife quickly and easily, and the blade locks into place.
Opening with a Thumb Stud, Manual:
Hold knife handle in one hand.
Place thumb on the thumb stud.
Push outward on the thumb stud.
Continue pushing and follow as you rotate the blade out of the handle and lock it into place.
THUMB DISK
The thumb disk is a small disk found at the top of the blade.
Opening with a Thumb Disk, Manual:
Hold knife handle in one hand.
Place thumb on the thumb disk.
Push outward on the thumb disk.
Continue pushing and follow as you rotate the blade out of the handle and lock it into place.
EMERSON WAVE SHAPED FEATURE®
This is a wave-shaped hook built into the back end of the blade, similar to the flipper.
Opening with an EWSF, Manual:
Make sure closed knife is snugged up against the rear seam of your pants pocket, tip-up, as shown.
Reach into the pocket to hold the handle of the knife, keeping your fingers away from the blade.
Pulling toward the rear seam, withdraw the knife from your pocket quickly and steadily so that the Emerson Wave Shaped Feature hooks on the rear seam of the pocket.
This will automatically open the blade. By the time it's fully out of the pocket, the knife will be open and ready for use. Pull back quickly and smoothly to ensure blade lock up.
POCKETCLIPS
Kershaw pocketclips are selected to be compatible with the style and materials of the knife. In addition, the position of the pocketclip may be determined by the position of the knife's other hardware, especially the pivot point and locking mechanisms. Most Kershaw folding knives come pre-drilled for a variety of carry positions, including reversible, 3-position, or 4-position options so taking your Kershaw with you is as convenient as possible.
See the photos below for the safe pocket carry positions for the various options. A tight clip, combined with this placement will help ensure your knife does not open accidentally during carrying.
SINGLE-POSITION
The pocketclip is mounted in a single, fixed position on the knife handle.
REVERSIBLE
Right-handed, tip-up or tip-down
OR
Right- or left-handed, tip-up
3-POSITION
Right-handed, tip-up or tip-down
AND
Left-handed, tip-up
4-POSITION
Right-handed, tip-up or tip-down
AND
Left-handed, tip-up or tip-down
DEEP-CARRY
This specially designed pocketclip is positioned at the very end of the handle so that the knife can be carried deeper inside the pocket.
---
Using the pocketclip properly makes carrying your knife safer. A clipped knife will be less liable to open accidentally, even if the flipper is impacted by another object you're carrying in your pocket, purse, or backpack. Not using the pocketclip may lead to serious physical harm.
To ensure the knife remains closed until you open it, put the knife inside your pocket with the clip to the outside as shown. The blade side of the knife should be snugged up against the seam of the pocket.
FRONT-RIGHT POCKET
FRONT-LEFT POCKET
BACK-RIGHT POCKET
BACK-LEFT POCKET
CAUTION
Do not clip the knife to your belt.
Do not clip the knife to the outside of your pocket.
Also, carrying a pocketknife loose in your pocket is not recommended.
BLADE STYLES
Kershaw blades come in a variety of different shapes, ready for a wide range of tasks.
AMERICAN TANTO
Angles upward to meet the spine. The angled edge can be straight or curved. The American tanto offers a strong, durable tip while the straight edge makes it ideal for push cuts.
CLEAVER
A high-utility style defined by a slightly curved belly and downturned tip. Ideal for slicing and chopping tasks.
CLIP POINT
The tip of the clip point is lower than its spine. The top part of the blade has been "clipped" off so that the blade goes straight from spine to tip. The clip point can also have a concave curve to the tip. Clip points are great for everyday carrying, but are also favored for hunting knives.
DROP POINT
The blade's point drops down below the blade's spine. Usually has good "belly," a curved cutting edge. It is one of today's most widespread blade shapes because it's a great all-purpose blade.
HAWKBILL
A hawkbill blade is hook-like with a concave belly. It offers ease in cutting ropes, fabrics, and even trimming shrubbery.
RECURVE
Instead of having a fully convex belly, a recurve blade will also have a gentle concave curve along part of the cutting edge. This gives the edge something of an "S" shape. The recurve blade provides good belly for slicing and a concave curve for easy draw or pull cuts.
REVERSE TANTO
Instead of the edge angling up to meet the spine, a reverse tanto's tip angles down to meet the edge. Like the American tanto, the reverse tanto offers a strong tip for piercing and, generally, a straight edge, ideal for good slicing.
SHEEPSFOOT
A sheepsfoot blade is similar to the Wharncliffe, but it has a steeper slope from spine to edge and a less-pointy tip. They are often favored by emergency responders due to the relative safety of the rounded tip. The straight edge works well for slicing push cuts and general-purpose cutting.
SPEAR POINT
In a spear-point blade, the top and bottom of the blade are symmetrical, and the tip is in line with the center of the blade. It may have one or both edges sharpened. It offers tactical style as well as excellent piercing.
TRAILING POINT
A trailing-point blade has a tip that ends above the spine of the knife. Many trailing point knives also have a deep belly curve for superior slicing, including skinning and hunting use.
WHARNCLIFFE
A Wharncliffe blade has a completely straight cutting edge. The spine of the blade gradually slopes down to meet the edge, forming a tip. The straight edge makes a great blade for slicing push cuts, for wood carving, general cutting, and utility work.
BLADE STEELS
Kershaw blades are made from a range of steels, each with their own strengths in edge retention, corrosion resistance, and sharpening ease.
CPM 20CV
This Crucible powdered metallurgy tool steel has a high volume of vanadium carbides for exceptional wear resistance and edge retention. The highest level of chromium of any high-vanadium steel gives it excellent corrosion resistance.
HRC: 59–61
TOUGHNESS: 6/10
EDGE RETENTION: 9/10
CORROSION RESISTANCE: 7/10
SHARPENING EASE: 2/10
---
CPM S30V      
Large carbides in this all-around premium knife steel make it take and hold an edge extremely well; it is also very tough and wear resistant.
HRC: 59.5–61
TOUGHNESS: 5/10
EDGE RETENTION: 7/10
CORROSION RESISTANCE: 7/10
SHARPENING EASE: 5/10
---
CPM 154        
This powdered metallurgy steel has a more uniform distribution of carbides, so it takes and holds an excellent edge. Also offers good corrosion resistance, wear resistance, and toughness.
HRC: 58–60
TOUGHNESS: 4/10
EDGE RETENTION: 6/10
CORROSION RESISTANCE: 6/10
SHARPENING EASE: 5/10
---
SANDVIK 14C28N       
This high-performance steel was developed in a partnership between Kershaw and Sandvik Steel. Offers excellent corrosion resistance.
HRC: 58–60
TOUGHNESS: 6/10
EDGE RETENTION: 4/10
CORROSION RESISTANCE: 6/10
SHARPENING EASE: 6/10
---
D2              
This "semi-stainless" tool steel is known for excellent edge retention, wear resistance, and good toughness.
HRC: 59–60
TOUGHNESS: 6/10
EDGE RETENTION: 8/10 
CORROSION RESISTANCE: 2/10
SHARPENING EASE: 3/10
---
8CR13MOV      
Kershaw precision heat-treats 8Cr13MoV steel to bring out its very best high-performance characteristics: the ability to take and hold an edge, strength, and hardness.
HRC: 57–59
EDGE RETENTION: 3/10
CORROSION RESISTANCE: 3/10
SHARPENING EASE: 8/10
---
8CR14MOV      
The formula for this steel has additional chromium for added stain resistance. It also benefits from Kershaw's expertise in precision heat treatment.
HRC: 58–59
---
7CR17MOV
Similar to 440A stainless steel, but with a formula that has added molybdenum and vanadium to improve hardness and wear resistance.
HRC: 57–59
---
420HC
This modified 420 steel has higher amounts of carbon and chromium to boost hardenability and corrosion resistance. It is an excellent everyday steel: tough, corrosion resistant, easy to sharpen, and takes a good edge.
HRC: 58
EDGE RETENTION: 3/10
CORROSION RESISTANCE: 7/10
SHARPENING EASE: 9/10
---
420J
Highly stain resistant, but ductile, this steel is excellent for use where "flex" is desirable, for example, in fillet knives.
HRC: 56–58
EDGE RETENTION: 2/10
CORROSION RESISTANCE: 8/10
SHARPENING EASE: 9/10
---
DIN 1.4116  
Exceptionally corrosion resistant and very tough, this German stainless steel is one of the most popular steels for kitchen knives. It is very easy to re-sharpen when the time comes.
HRC: 55–57
---
65MN
A tough, durable carbon steel designed for hard-use tools such as Kershaw's Camp Series machetes.
HRC: 56
---
3CR13
A value-priced high-chromium stainless steel.
HRC: 54–56
---
4CR14
A value-priced steel; very highly stain resistant.
HRC: 55–57
| | | | | | | | | | | | | | | |
| --- | --- | --- | --- | --- | --- | --- | --- | --- | --- | --- | --- | --- | --- | --- |
| | Carbon (C) | Chromium (Cr) | Molybddenum (Mo) | Vanadium (V) | Tungsten (W) | Cobalt (Co) | Nickel (Ni) | Manganese (Mn) | Silicon (Si) | Sulphur (S) | Phosphous (P) | Copper (Cu)  | Niobium (Nb) | Nitrogen (N) |
| CPM S30V | 1.45 | 14 | 2 | 4 | – | – | – | – | – | – | – | – | – | 0.2 |
| CPM 154 | 1.05 | 14 | 4 | – | – | – | – | – | – | – | – | – | – | – |
| 14C28N | 0.62 | 14 | 0.55 | – | – | – | – | – | 0.25 | 0.015 | 0.03 | – | – | 0.08 |
| 8Cr13MoV | 0.8 | 13 | 0.15 | 0.1 | – | – | 0.2 | 0.4 | 0.5 | 0.01 | 0.02 | – | – | – |
| 8Cr14MoV |  0.75–0.8 | 13.5–14 | 0.20–0.25 | 0.10–0.15 | – | – | – | 0.3–0.6 | 0.3–0.6 | 0.03 | 0.035 | – | – | – |
| 420J | 0.4–0.5 | 12–14 | 0.6 | 0.18 | – | – | – | 0.8 | 1 | 0.02 | 0.05 | – | – | – |
| 420HC | 0.46 | 13 | – | 0.3 | – | – | – | 0.4 | 0.4 | - | – | – | – | – |
| D2 | 1.4–1.6 | 11–13 | 0.7–1.2 | 1.1 | – | – | 0.3 | 0.6 | 0.6 | – | – | – | – | – |
| DIN 1.4116 | 0.45–0.55 | 14–15 | 0.5–0.8 | 0.1–0.2 | – | – | – | 1 | 1 | 0.015 | 0.04 | – | – | – |
| 65Mn | 0.57–0.70 | – | – | – | – | – | – | 0.6–0.9 | – | 0.05 | 0.04 | – | – | – |
| 3Cr13 | 0.35 | 13.5 | 0.6 | – | – | – | 0.5 | 0.5 | 0.8 | – | – | – | – | – |
| 4Cr14 | 0.38 | 13.94 | 0.12 | 0.08 | – | – | 0.14 | 0.41 | 0.41 | 0.003 | 0.02 | – | – | – |
BLADE COATINGS & FINISHES
The coatings and finishes on Kershaw blades (and metal handles) are part of the knife's design and aesthetic, as well as providing some protection against scratches, wear, and corrosion of the metal surface.
BEAD-BLASTED FINISH
The knife blade is "blasted" or sprayed with a mixture of fine media, including glass and aluminum-oxide beads, under high speed and pressure. This smooths the blade surface and creates a soft, non-reflective, matte look. Depending on the media, this finish can produce a darker or a lighter blade color.
---
BLACK-OXIDE COATING
A chemical bath converts the surface of the steel to magnetite; it enhances appearance and adds some corrosion resistance.
---
BLACKWASH™ FINISH
Our BlackWash™ finish produces a vintage look like that of a well-used tool or favorite, broken-in pair of jeans. Kershaw products may have DLC BlackWash™ or black-oxide BlackWash™ finishes.
---
CERAKOTE
Cerakote is a high-performing, durable polymer-ceramic composite coating that can be applied in a variety of colors. The coating enhances abrasion/wear resistance, corrosion resistance, chemical resistance, impact strength, and hardness.
---
DLC COATING
Diamond-Like Carbon (DLC) coating displays properties similar to those of natural diamond, including hardness, wear resistance, and reduced friction.
---
POWDERCOAT
The coating is applied as a fine powder and cured under heat. This creates a smooth, even, and tough coating.
---
PVD COATING
PVD stands for Physical Vapor Deposition. Specialized materials are vaporized via a vacuum process. Then the vaporized material is deposited as a thin layer on selected objects. In our case, it enables us to finish our blades and/or handles with a thin coating that adds color and offers excellent wear and corrosion resistance.
---
SATIN FINISH
A Kershaw satin finish will typically show a faint pattern of vertical lines across the blade. It is a shinier finish than bead blasting and somewhat lighter in color.
---
STONEWASHED FINISH
Blades are tumbled with ceramic "stones," which gives the blade surface a desirable roughened or scuffed look. The look can be pronounced or subtle. The finish helps hide scratches and fingerprints.
---
TITANIUM CARBO-NITRIDE COATING
Kershaw also uses titanium carbo-nitride to produce an attractive black or gray blade coating that increases the blade's hardness, helps maintain the edge, and increases the lifetime of the blade.
---
DUAL FINISH
Sometimes Kershaw will combine two different blade finishes on a single blade, for example, satin finish on the blade flats and stonewash on the blade grinds.
ABOUT KERSHAW EDGES
Kershaw pocketknives have two main types of edges: the plain (also called "fine" or "straight") edge and the partially serrated edge. Let's look at the advantages of each type and the best way to put each to use.
THE PLAIN EDGE
A plain edge is the edge style everyone is familiar with. The blade steel is ground and sharpened to a very fine point along one edge. The sharpened edge is a uniform width from the heel to the tip of the blade. Generally, the sharpened edge is visually lighter than the rest of the blade because the sharpening process also polishes the edge. All Kershaw knives are hand sharpened by our expert sharpeners.
The plain edge is the general-purpose cutting edge, the one most people need for daily tasks. From opening packages to breaking down cardboard to slicing up an apple for a snack, the plain-edged pocketknife is perfect for the job.
Advantages:
Multipurpose cutting
Excels at push cuts, slicing cuts, and precision work
Easy to care for
Easy to resharpen when needed
THE PARTIALLY SERRATED EDGE
The plain edge is so useful, that Kershaw doesn't have any knives in our current lineup that don't have at least a partial plain edge. However, there are times when a serrated edge is the right tool for the job. When cutting fibrous materials like rope or webbing (think seatbelts) or even when sawing through bits of wood or hide, the toothlike serrations can cut more quickly and efficiently. The partially serrated portion of the blade is sharpened on a single side, making the edge even sharper, while the serrations dig in to cut through the tough stuff.
Kershaw's partially serrated blades combine the advantages of the plain edge with those of the serrated edge for the best of both worlds.
Advantages:
Added cutting versatility with both edge styles
Partial serration enables easy cutting of fibrous materials
Serrations stay sharper longer
While serrations do tend to retain their sharpness longer, when it comes time to resharpen, serrations take more effort and require special tools.
ABOUT KERSHAW GRINDS
The grind of a knife is how the knife blank is thinned and narrowed by grinding so that the blade becomes thin enough along the edge to cut with it. Kershaw uses two main types of grinds on our knives: flat and hollow. For more info about the parts of a blade, see Knife Anatomy.
THE FLAT GRIND
A flat grind is pretty much what it sounds like: the blade is ground flat from the spine to the edge on both sides. In cross section, it would look like a triangle. Kershaw also puts an edge bevel on the blade, which forms the actual cutting edge.
The flat grind offers good cutting capabilities, strength, and depending on blade thickness, can also offer chopping abilities.
The slicer grind, designed by Rick Hinderer, is a type of flat grind used on some Kershaw knives made in collaboration with Rick. In this case, the blade grind tapers from spine to edge, but also from back of the blade to front. This enables to front of the blade to be an excellent slicer, while the thicker back part of the blade can be used for tougher push or draw cuts.
THE HOLLOW GRIND
For a hollow grind, the blade is ground so that it is slightly concave on both sides of the blade. This thins the blade and enables a very thin, sharp edge, making this style of knife an excellent slicer.
Hollow grinds are useful on any knife that needs to be able to slice, making them excellent for every day carry. They are also often found on hunting knives for that same purpose. As with the flat grind, Kershaw also puts an edge bevel on our hollow-ground knives.
Kershaw chooses blade edges and grinds based on the intended use of the knife, the knife's design and materials, as well as manufacturing considerations. 
HANDLE MATERIALS
Kershaw handles are fashioned from a number of different materials for durability, grip, weight, and style.
ALUMINUM
Aluminum is a lightweight, yet strong and durable material. Anodizing makes aluminum even stronger and enables Kershaw to add scratch and fade resistant color to knife handles. Some handles are bead-blasted for a matte texture.
CARBON FIBER
Carbon fiber atoms are bonded together in crystals aligned in long strands, then woven together like fibers. Combined with resin to make the fibers rigid, carbon fiber makes a knife handle material that is extremely strong and extremely lightweight.
COPPER 
Denser and heavier than iron, this natural metal starts out reddish-orange in color, but over time will gain a patina, like a copper penny. The patina is a result of oxidation, and the colors it turns will change with time as well. Copper makes an interesting knife handle material due to the changing patina. Depending on how you handle and use it,the knife will look different throughout its life.
G10
An epoxy-filled woven glass fiber; it is extremely stable, unaffected by temperature changes, and makes excellent handles and handle scales for knives.
GLASS-FILLED NYLON
Nylon synthetic polymer is reinforced with glass threads for increased strength, stiffness, and dimensional stability, combined with excellent wear resistance.
K-TEXTURE™ GRIP
An exclusive texture and pattern used on the handles of certain Kershaw knives. K-Texture™ enhances a secure grip.
STAINLESS STEEL
An alloy of iron and carbon, most steel also has additional elements alloyed in it to enhance specific characteristics. As a handle material, stainless steel is strong and attractive.
TRAC-TEC INSERTS
A rough-surfaced rubber insert that provides additional friction for a non-slip grip.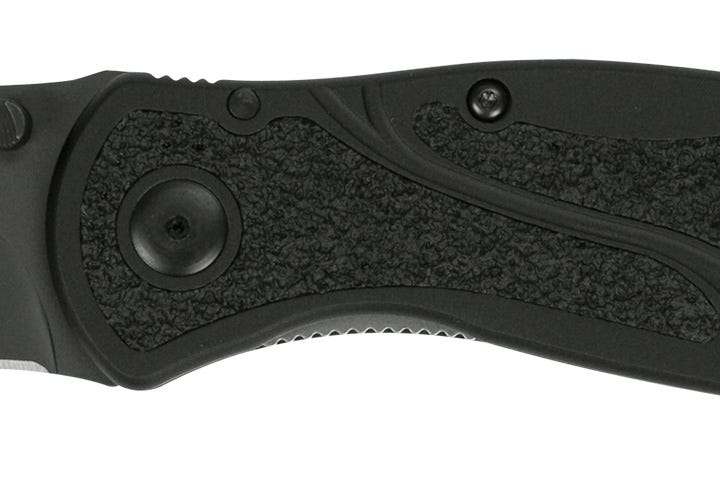 KNIFE ANATOMY
What's the name of that part? The one between that piece and the other thing? Know the parts of a knife, from the tip to the butt with this quick guide.
FRONT VIEW
---
BACK VIEW
---
TOP VIEW
BOTTOM VIEW